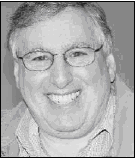 Eric Kokish, of Toronto
Eric Kokish wears many hats in the bridge world these days – player, writer, editor, commentator. It's a long list. As far as the world champion Nick Nickell team is concerned, Kokish is the American Express card – they don't want to leave home without their coach. In fact, the genial Canadian has been right there with the team for every overseas trip since 1998.
Two of those forays have resulted in victories in the Bermuda Bowl – in Bermuda in 2000 and in Monte Carlo in 2003. Kokish has also helped the team to numerous wins in ACBL tournaments, including the United States Bridge Championship, Spingold Knockout Teams and the Reisinger Board-a-Match Teams last year.
At the world level, a key Kokish effort is bringing the squad – Nickell, Richard Freeman, Eric Rodwell, Jeff Meckstroth, Bob Hamman and Paul Soloway – up to speed on all the strange bidding systems they will encounter in international play. " We respect Eric's knowledge about the correct defenses to play," says Soloway. "And he has defenses against any convention you can think of."
Kokish's contribution to the Nickell team – and to the dozens of others he has coached during 20 years of doing it – goes beyond simply cataloging and clerical work. Says Hamman, "Eric is invaluable to me and Paul and to Nick and Dick because he has a good grasp of what can be accomplished and what can't – and he asks the right questions."
Kokish's coaching at this level isn't about cardplay technique or basic bidding. His 20 years of coaching bridge teams and pairs has given him a perspective on what's important for players who want to make it to the winners' circle, sometimes after years of trying. He is proud to say that about 75% of the teams that have done well in international competition over the past couple of decades have been coached by him.
A good example is the team from Russia that earned a bronze medal in last fall's World Bridge Team Olympiad in Istanbul, Turkey. Kokish worked with the entire team. He also worked with the top pair on the Russian women's team – the squad that earned the gold medal in the Women's Olympiad in Istanbul.
Before he agrees to coach a team or partnership, he asks each person to write a personal letter discussing their lives, what influences them, what's positive and what's negative for them – and many other factors that might bear on how they play and interact with their partners.
" I want to know what they're thinking about," says Kokish. "I deal with partnership relationships a lot so that I can get them to bring out the best in each other. Partners don't have to love each other, but they have to respect each other and try to be what the other partner needs."
Kokish says he works very hard to keep players " from thinking about things they shouldn't be thinking about." One of the cardinal sins, he says, is worrying about a mistake, and he speaks with admiration of the player he considers the best at putting a played deal where it belongs – in the past – no matter what happened. That would be Hamman. " Bob is absolutely incredible at putting errors out of his mind," he says.
Kokish is a native of Montreal and lived in that city for the first 50 years of his life (he's 57 now). He took up bridge as a teenager after reading a bridge book by Richard Frey on a train ride from New York City Montreal. He has an outstanding record in competition, earning silver medals in the 1995 Bermuda Bowl and the 1978 World Open Pairs to go with a handful of other big wins in North American competition.
He has been married to Beverly Kraft since 1986, and works with her on The Bridge World's Challenge the Champs monthly bidding contest. He is also director of the Bridge World's Master Solvers feature. He has worked in one capacity or another on most world championship books for a couple of decades, and his smooth, rich voice is a staple of the BridgeVision vugraph shows at world championships.
No one knows more about the amazing variety of bidding systems as Kokish does. His entry into coaching came about because he met and befriended many people on the international scene as a player, and his theoretical writings caught the attention of the right people.
He got his first coaching gig in 1985, traveling to Brazil to try to mold a loose group of emotional Brazilians into a tight-knit bridge team. His efforts paid off when the underdog Brazilian team came within a hair of defeating the powerful American squad in the semifinal round of the Bermuda Bowl.
In the late Nineties, Kokish moved his family from Montreal to Jakarta, Indonesia. The government of that nation had talked him into a two-year contract to coach the national bridge team. Six months into the job, the political and economic situation in Indonesia had deteriorated to such an extent that they had to leave. Fortunately, he had purchased a home in Toronto before moving to Indonesia, so he had somewhere to return to.
Kokish is a stickler for getting partnerships to concentrate on what's important. "The way they react and how they use their time is more important that what system they play," he says.
On Friday afternoon at the Spring NABC, Kokish was monitoring Nickell and Freeman as they played in the Silodor Open Pairs I – mainly to help the partnership work out some kinks. That night, when Hamman's Open Pairs partner (Zia Mahmood) became ill, Kokish filled in. That just added to the number of duties that have Kokish feeling overwhelmed. "I am seriously overextended," he says.
Two days after the Spring NABC concludes, he will dash off to Ireland, where he will work with that country's international and almost-international players. Two days after returning home to Toronto from Ireland, he will take off for China to do a bit of playing and producing daily bulletins for a small tournament.
All the bridge activity has kept Kokish from keeping up with two of his favorite hobbies – collecting baseball cards and vinyl records (he has an estimated 10,000 LPs and about 3000 singles). It's easy to envision how exciting it would be to win a major bridge event. Kokish has known the thrill of victory in that sense, yet he treasures the moments when teams he has coached do well, even when they don't win it all. Says the coach: "There's nothing more gratifying."